Acrylic Streams
Blessed is the man that trusteth in the LORD, and whose hope the LORD is. For he shall be as a tree planted by the waters, and that spreadeth out her roots by the river, and shall not see when heat cometh, but her leaf shall be green; and shall not be careful in the year of drought, neither shall cease from yielding fruit. Jeremiah 17:7-8
Click here to discover the source of creativity.
---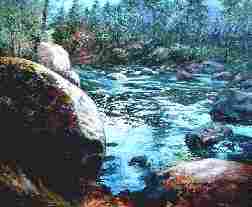 Shadows
Though shadows creep across the landscape
of my days.
Night will vanish at the dawning
of the Son's rays!
---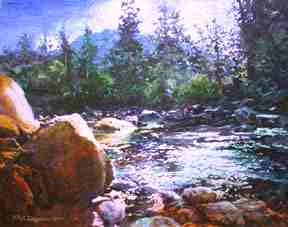 Healing Memories

Digging through old file folders,
remembering precious memories,
I see Your light shine through.
Faded photos, notes and slides
now brought to view
reveal You working here and there
when life was tough to bear.

Widowed young demanding answers,
I often asked, "Why this? Why that?
Why me and not them?
Life's so unfair!
Must I walk another day alone
Without fulfillment of my prayer?"

But You were there
In the questioning dark --
In the nighttime of my soul.
When I felt black waters roll
over my struggling head,
You grasped me and lifted me above
the river of death's chilling dread.

You planted my feet firmly on the Rock
And in Your Word tenderly said,
"I will never leave you,
nor forsake you, My child."
Blessed truth -- when life's waters are calm
or its waves are wild.

And in the end I've come to know
You've woven my days together
your grace and mercy to show.

---

And we knowthat all things work together for good to them that love God, to them who are the called according to his purpose. Romans 8:28




---

Eternal Fruit
Anchored securely by the stream,
God's Word, life-giving water,
Blesed reality, not a dream.
In this happy place to be fruitful.
Drawing nourishment from Christ,
How delightful!
The fruit will last forever
since drawn from Him,
no devise of man
no matter how clever
Can create that which will
the ages span!
---

Then shall the lame man leap as an hart, and the tongue of the dumb sing: for in the wilderness shall waters break out, and streams in the desert. Isa 35:6
---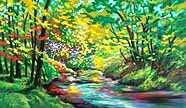 Click on links below to see more water paintings: