Desert Paintings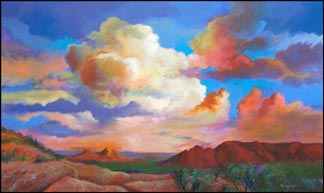 "Sedona Glory"
3 feet x 5 feet acrylic on canvas Sold
For thy mercy is great above the heavens: and thy truth reaches to the clouds. Ps 108:4
Click here to discover the source of creativity.
---
The Promise of The Father

Parched earth thirsts for water,
Deep cracks appear in the land!
Hopeless ground all barren within,
Where is the promise of future for you?

Hearts despondent, all alone . . .
Longing for what,
They do not know.

But in the desert a sound!
Drops fall to the earth with a splash!
Rain caresses thirsty ground,
And settles in the ravines.

Look! A stream of water is emerging
Becoming a Life-giving river!
The promise of the Father!

So let it flow over all the land,
until the earth is covered with
The glory of the Lord,
As the waters cover the sea!
---
Click on links below to view more desert paintings: