Sedona Acrylic Paintings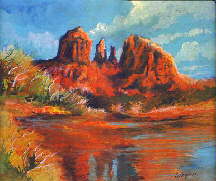 Sold
Sedona, Arizona, is a place of incredible beauty. Here in the midst of dry land and towering rocks is a place of quiet waters that reflect the majestic red towers reaching up to the heavens.
Click here to check out prints and
cards of Sedona landscapes.
---
The wilderness and the desert will be glad,
and the desert will rejoice and blossom;
like the rose it will blossom profusely
and rejoice with rejoicing and shout of joy.
For waters will break forth in the wilderness
and streams in the desert.
And the scorched land will become a pool
and the thirsty ground springs of water.
Isa 35:1,6 and 41:19
Click here to discover the source of creativity.
---

God speaks of believers as being streams of water in the desert. As vessels carrying the Holy Spirit within us, those who are saved by Christ alone have living water to offer to those who are dead spiritually.
---
Behold, I will do a new thing; now it shall spring forth; shall ye not know it? I will even make a way in the wilderness, and rivers in the desert. Isa 43:19
---
The beast of the field shall honour me, the dragons and the owls: because I give waters in the wilderness, and rivers in the desert, to give drink to my people, my chosen. Isaiah 43:20
---
For the LORD shall comfort Zion: he will comfort all her waste places; and he will make her wilderness like Eden, and her desert like the garden of the LORD; joy and gladness shall be found therein, thanksgiving, and the voice of melody.Isaiah 51:3
---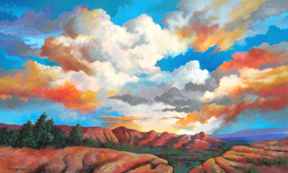 Winning over Time
As I look into the mirror
I could see cause for alarm.
Skin that once was firm and unwrinkled
is experiencing time's harm.

A face that I once was glad to call my own
reminds me that it is only on loan.
The years change us relentlessly, persistently
until one day time will have its way
and we will crumble and decay!

But I have seen God's promised hope
that will never pass away.
Because Christ arose, I too will rise
and put on immortal clothes
to replace the old.
As I meet Him in the skies!

But the glorious thought breaks through
more luminous than a sun's ray --
Christ could come back today!
---
Click on links below to view more desert paintings: