Mountain Paintings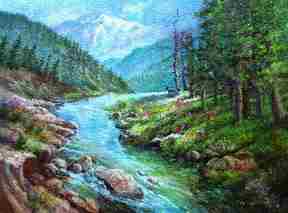 View of Mount Galena
Sold
H e sendeth the springs into the valleys, which run among the hills. Ps 104:10
Click here to discover the source of creativity.
Hidden Future
The future looms before me
Shrouded in mist.
Should I worry about unknown
days ahead
or trust in God,
Whose ways have never missed?

The good shepherd has gone before
up 'til now and continually leads.
He will guide me all the way home.
Christ provides all my needs
and deepest hunger feeds!
Sold
---
In his hand are the deep places of the earth: the strength of the hills is his also. Ps 95:4
---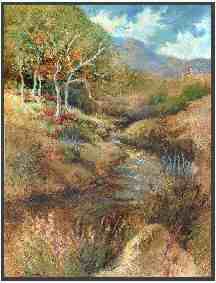 Sold
Who covereth the heaven with clouds, who prepareth rain for the earth, who maketh grass to grow upon the mountains. Ps 147:8
He watereth the hills from his chambers: the earth is satisfied with the fruit of thy works. Ps 104:13
---
When Our Foundations Are Shaken
Often the things we depend on for security are shaken to their foundations.
That has happened to me a number of times in my life.
When my father died when I was only eight years old, a big part of my security system toppled. When my mother died of cancer when I was eighteen years old, another large mountain of stability crashed beneath my feet. When my first husband, Barry, got cancer at only thirty-three years of age and died, my Mount Everest was shaken.
Lesser things that I depended on have also been removed. Hopes are often shaken.
God still sends earthquakes into our lives to shake our dependence on earthly things and people.
Yes, it's true that loved ones I had depended on for support died, dreams have not materialized and pain has come to torment me from time to time.
When earth's mountains and hills crash around me, God is still my security. He is my only security -- my only rock of refuge.