Fauvist Red Trees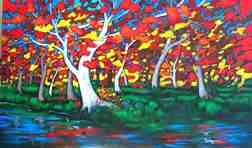 Autumn Leaves
Gratitude
I
mmortal, Invisible, All-knowing --
I thrill with wonder at the joy of growing
in You as the years pass hour by hour
and experiencing Your Holy Spirit's power.
Oh Lord, help me never to lose my love for You,
But to always focus on the heavenly view.
In distant worlds I would sing this glad refrain:
Jesus walked with me through all my joys and pain.
I praise You for life with You forever
because You promised to leave me never.
It's so good to know in the midst of trials of life
that you are Lord of all and Victor in life's strife.
Thank You that You will always be the same.
Your name is above every other name.
And all will bow before you
when eternity comes into view.
This is my one constant story.
Christ in me, my only hope of glory.
This is my supreme desire
fill me with Thy holy fire.
In sorrow let dross be consumed and gold remain.
And let me know the joy of latter rain --
Your Holy Spirit poured into my heart!
Yes, from this world of sin set me apart.
Help me to do Your holy will --
to hear your voice so still.
I would be what you want me to be,
and follow fully only Thee.
Through my failures I have come to depend on You.
Keep me close by your side until this life is through.
Let the past be a learning experience
that brought me to my senses.
and deliver me from all sinful offenses.
I desire to have a heart that is perfect in Your sight
and follow You the rest of my earthly fight . . .
until robed in Christ's righteousness of spotless white,
I stand before You -- the One True Light.
Because of Christ's death and resurrection,
You have freely given me salvation.
You have purchased endless life for me --
My endless song throughout eternity.
---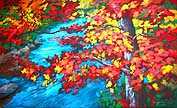 Maple Stream
---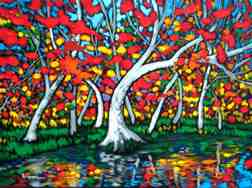 October Dance
---
Red Autumn
---
Click on links below to see more fauvist art: