Desert Watercolor Paintings
Choices
C hoices parade continually before me.
do I choose to be a dried-up bush
or an evergreen tree?
Do I prefer to trust in man,
Seeking sustenance from a wasteland?
or shall my roots sink deep within a stream,
God's provision of His Spirit that He planned?
The choice is mine to make each hour.
Remind me Lord that earth is but a passing dream
In light of Your eternal power.
Click here to discover the source of creativity.
---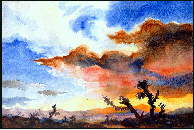 Mojave Desert Splendor
---
Shadow of A Mighty Rock
---

Pueblo Sunset
---

Calico Ghost Town
---

Old Barn
---
Wildflowers
See the colors dancing at your feet!
Wildflowers decorate the surface of the earth
Where they meet,
In rainbow patches and brilliant bands.
A grand tapestry displayed by unseen hands.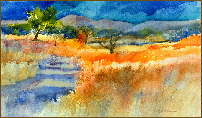 Thirsty Land
Thirsty land stretches out as far
as the eye can see,
But it has its own special beauty for me.
The desert shall blossom like a rose
with flowers dressed
in luminous clothes.
---
The Desert
I feel the gentle rain from above,
falling on my troubled soul.
Latter rain -- the Holy Spirit's abiding love,
He falls on parched desert land
and lo, there blooms a rose.
So too my soul is often hard as flint,
but Thy gentle rain softens the parched earth.
By Thy loving hand the ground is broken up
and then You plant a garden in my heart.
---

Thirsty Lives
Thirsty lives stretch out as far as the eye can see,
longing for something to meet their needs.
sensing a barrenness,
Feeling there must be more to satisfy their souls,
Filling their lives with that which never satisfies.
Jesus said, "He who is thirsty,
let him come unto me and drink.
He who believes in me shall never thirst.
But will have rivers of living water
flowing out of his inner being."
If you are thirsty, come to Jesus, my friend.
And you too will never thirst again!
Your desert will blossom like a rose!
The living waters are here since Christ arose!
Your life will become a grand tapestry
displayed by unseen hands!
---
Click on links below to view more desert paintings: