Portrait Paintings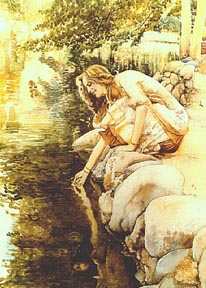 Rebecca
T his is a portrait of my daughter when she was 15 years old. I worked from a photo that I took at the arboretum in Arcadia, California. It's a watercolor painting.
Click here to discover the source of creativity.
---
This is an oil pastel drawing on pastel paper.
---
Take time to play
with your child today.
For time has wings
and flies away.
---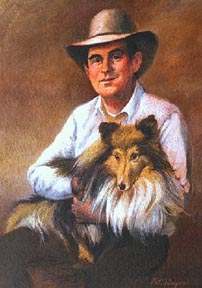 This is a mixed media painting of my husband,
Bob, and our dear departed sheltie -- Tiny.
---
Pet photography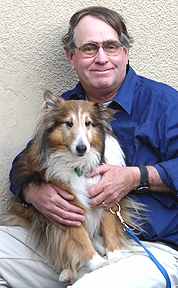 Bob and Chunky Charley
Recently I discovered a way to enhance the photos that I take. I use simple photo-editing software. First I attempted to take Chunky Charley's photo with my digital camera. I had a rough time because he didn't want to sit still while sitting on my husband lap.
So I put a leash on him and he did much better. I'm very sad to say that he also died (old age).
---
I used the vignette utility on my software to crop the picture to just include Chunkey Charley's face. Then I placed various colors in the background and smudged them to enhance the photo. This was almost like portrait painting. Although I didn't have a paintbrush in my hand, I did have a smudge tool!
---
I'm pleased with the results. In fact this may be
one of the best portraits I've ever taken.
---
Car Portrait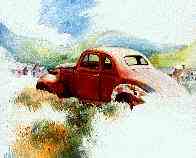 Out to Pasture
A solitary sentinel keeps solemn watch over faded dreams.
---
House Portraits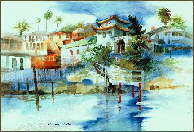 China cove
China cove was located in Newport Beach, Southern California. I was told that it has been torn down now, but it was a very unique collection of homes. And I'm glad I have a visual record of it in this painting.
---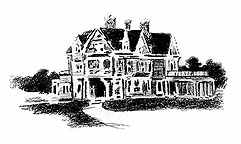 Drawing of Mansion
---
One evening I went to a special event for the women of our church. The host and hostess often graciously invited us to their resplendent home. The last tme I went I experienced an "afterglow" later. When I got home, I looked round my own condominium and saw dirt, cracks and other imperfections that I hadn't noticed before, or if I had noticed them, they didn't bother me.
Suddenly I felt shabby and unclean. I had considered myself to be a fairly decent housekeeper, but unexpectedly I felt undone. I began to feel uneasy suddenly seeing dirt in surprising places in my own small home.
---
Abrupt Insight
Puffs of fur from beloved shelties decorate the carpet.
Cracks in old wallpaint present themselves to view.
Suddenly I feel undone.
Abruptly I feel unclean.
All I did was be a guest in the home
of an immaculate housekeeper.
No one judged me.
They don't know the secrets my home tells me
of neglect of needed chores . . .
although I often straighten up some mess.
I feel uncomfortable in my own home
after being in hers.
Can this be a parable of how things are
with God and us?
We don't notice our failings.
We don't consider our sins,
Until we look at the perfect One
in all His glory!

This house on earth will fade away.
but one awaits me in heaven
because of Christ's sacrifice on Calvary!
The Father does not see my failures.
He sees me in Christ.
What an exchange!
His perfection for my failure.
His beauty for my ashes!
---
"God made HIm Who had no sin to be sin for us, so that in Him we might become the righteousness of God." 2 Cor. 5:21