Tree Paintings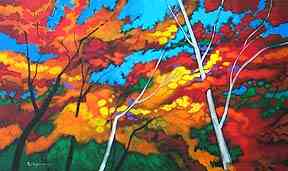 For ye shall go out with joy, and be led forth with peace: the mountains and the hills shall break forth before you into singing, and all the trees of the field shall clap their hands. Isa 55:12
Click here to discover the source of creativity.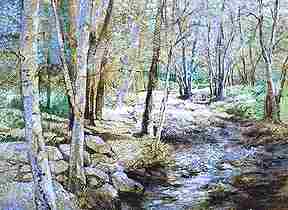 Trees are some of my favorite subjects to paint. The presence of trees creates beauty, but the absence of them gives a forlorn appearance.
I have a gorgeous huge magnolia tree growing in the front yard of our condominium.
The roots of this tree search out the sewer pipe under the grass and often invade the pipe and plug up the flow of drainage from our condominium to the main sewer pipe farther away from our home. I have to call the rotor router service man about once a year or the sewage backs up into our home.
Because of this, the board of governor's of the condominium decided to remove the tree, so they sent workmen to cut it down.
But I loved the tree so much that I stood up to the workmen and wrapped my arms around my beloved tree and told them to leave it alone!
Later the condominium board had a special outlet placed in front of the house, so the sewer would no longer back up. But before the outlet was installed, it was worth it to me to schedule a yearly rotor router visit before the sewer line had a chance to back up.
We still enjoy this lovely tree that shades our home and provides so much beauty. I'm so glad I saved a tree that day.
---
Psalm 1
1 Blessed is the man that walketh not in the counsel of the ungodly, nor standeth in the way of sinners, nor sitteth in the seat of the scornful.
2 But his delight is in the law of the LORD; and in his law doth he meditate day and night.
3 And he shall be like a tree planted by the rivers of water, that bringeth forth his fruit in his season; his leaf also shall not wither; and whatsoever he doeth shall prosper.
4 The ungodly are not so: but are like the chaff which the wind driveth away.
5 Therefore the ungodly shall not stand in the judgment, nor sinners in the congregation of the righteous.
6 For the LORD knoweth the way of the righteous: but the way of the ungodly shall perish.
Click on links below to see more tree paintings: