Fauvist Path Paintings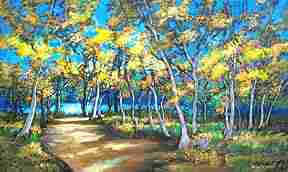 Sold
M ake me to go in the path of thy commandments; for therein do I delight. Ps 119:35
Click here to check out prints and greeting cards of path paintings.
---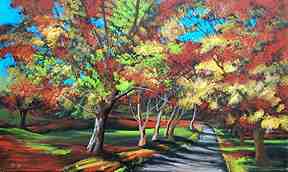 Sold
He never sleeps
I wake to greet a new day in the Son.
This is the race now to be run.
Jesus Christ, the same yesterday, today
and forever.
Nothing can from His love sever
Those who entrust to Him their lives to keep . . .
For He will never, never fall asleep.
---

True Wealth

Oh happy condition in Him!
clothed in His righteousness,
Earthly sorrows dim.
Infinite riches now and in store!
With such a treasured estate as mine,
who could dream of anything more?

My Father holds the worlds in His hands.
Through Christ I reign
above time's sinking sands.
---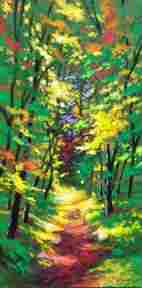 The Upward Look
We trust the future to You.
It's the wisest thing to do.
Oh happy condition so blest!
Through Christ all things
work together for the best.
Joy rises up and rings
Glad bells of praise --
Hosannas raise
in the midst of stress . . .
Jubilant hope
in times of distress.
Sold
---
The Better Choice
Is resentment seething deep within?
Have you been wronged by someone else's sin?
Stop and think before you repay in kind.
Trust in God and never mind
Avenging yourself.
Revenge poisons physical and spiritual health.
Rely on God's lavish supply
of grace as to Him you cry.
He has failed no one yet.
Experience life you won't regret.
Click on links below to see more Path paintings: