Lake Paintings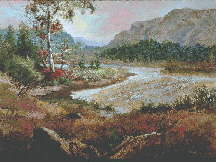 One August day my husband and grandchildren drove up to a local campground to stay overnight in the mountains of San Bernardino.
Together we had to descend into a deep gully and then walk up a steep embankment. I didn't think I could do it by myself, but I held onto Bob and made it just fine. On the way up I did not have any balance of my own and would have toppled over and fallen down the hill, but Bob's balance was enough for both of us.
Joey said that he saw a parable in that. The Lord Jesus pulls us out of pits as we hold onto Him!
Click here to discover the source of creativity.
Click here to check out prints and greeting cards of lake paintings.
---
The Lasting Choice

Still stewing?
Still making anxious plans?
Why should I waste my time
When my days are in the Shepherd's hands?
What folly to call what I think I own mine!
When it's only borrowed from Him,
When I only use it a while.
To return in the end what time will dim.
But think of this and smile!
What the Savior does through me
Will not fade away.
What the Master controls
will not pass -- but stay . . .
to be on display as eternity unfolds!
This is the future that He holds.
This is the glory that I too will share,
More glorious than rubies and diamonds rare!
---
"Come to me, all you who are weary and burdened, and I will give you rest. Take my yoke upon you and learn from me, for I am gentle and humble in heart, and you will find rest for your souls, For my yoke is easy and my burden is light" (Mt. ll:28-30).
---
Rescued
There's been many a day and many a time
When I have fallen into the mud and slime.
But there's never been a day so drear
that the Lord was not there with His presence near.
Even in the pit and the mess,
His strong arm reaches out with a gentle caress --
Then pulls me up to stand on high,
Secure on land that's safe and dry!
---
The 23rd Psalm
The LORD is my shepherd; I shall not want.
He maketh me to lie down in green pastures: he leadeth me beside the still waters.
He restoreth my soul: he leadeth me in the paths of righteousness for his name's sake.
Yea, though I walk through the valley of the shadow of death, I will fear no evil: for thou art with me; thy rod and thy staff they comfort me.
Thou preparest a table before me in the presence of mine enemies: thou anointest my head with oil; my cup runneth over.
Surely goodness and mercy shall follow me all the days of my life: and I will dwell in the house of the LORD for ever. Psalm 23
---

Island Reflections
---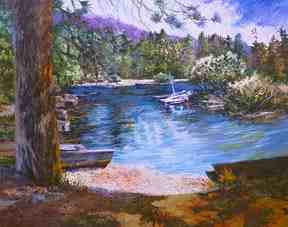 Green Valley Lake
---
Green Valley Boats
---
"The Lord is my rock, my fortress and my deliverer; my God is my rock, in Whom I take refuge. He is my shield and the horn of my salvation, my stronghold. I call to the LORD, who is worth of praise, and I am saved from my enemies. He reached down from on high and took hold of me; he drew me out of deep waters. He rescued me from my powerful enemy, from my foes, who were too strong for me. They confronted me in the day of my disaster, but theLORD was my support. He brought me out into a spacious place; he rescued me because he delighted in me" (Ps. 18:2-3, 16-19).
"He lifted me out of the slimy pit, out of the mud and mire; he set my feet on a rock and gave me a firm plce to stand. He put a new song in my mouth, a hymn of praise to our God. Many will see and fear and put their trust in the LORD" (Ps.40:2,3).
Click on links below to see more water paintings:
Acrylic StreamsOceans Watercolor Streams