Sedona Watercolor Paintings

Sedona is filled with scenic wonders. Huge red rocks in varied shapes and sizes point upward to spectacular skyscapes above.
Click here to check out prints and cards of Sedona landscapes.
---

Here are three more watercolor paintings of Sedona. I tried to depict the spectacular beauty of Sedona, Arizona, and the various moods that special area can experience -- from serene sunsets to light shimmering from the land below spacious skies.
Click here to discover the source of creativity.
---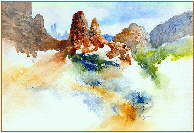 For thy mercy is great above the heavens: and thy truth reacheth unto the clouds. Psalm 108:4
---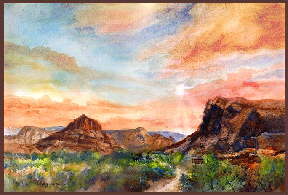 Ascribe ye strength unto God: his excellency is over Israel, and his strength is in the clouds. Psalm 68:34

---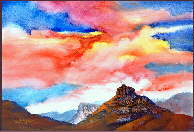 Who layeth the beams of his chambers in the waters: who maketh the clouds his chariot: who walketh upon the wings of the wind: Psalm 104:3
---
The View from My Window
As I look out of my window I see
gentle whisps of white spreading across the sky.
Cloud formations decorating the dome of blue
arching above the land below.
I see my Creator's handwork wherever I gaze,
And I give You thanks.
---
Click on links below to view more desert paintings: