Paintings of Paths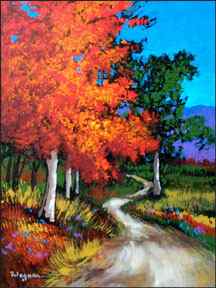 Sold
Thou wilt shew me the path of life: in thy presence is fulness of joy; at thy right hand there are pleasures for evermore. Ps 16:11
Click here to discover the source of creativity.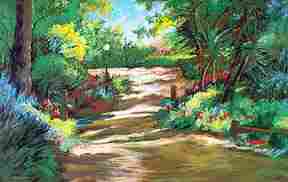 The Road Ahead
Sometimes I've walked down paths
that were sunny and bright.
Other times I've walked down paths
in the dark and dread of night.
But whatever the road ahead -- joyous or drear,
I have peace knowing the Good Shepherd is near.
He has been leading in the paths of righteousness
for His name's sake.
Something beautiful from the dark days He'll make.
The Lord has given and the Lord has taken away.
Blessed be the name of the Lord, I say.
But what He has taken is only a temporary loss.
A resurrection and reunion is coming
because of His cross.
All my tears will be washed away
In God's eternal day.
There will be no more sorrow and no more night.
Only a glorious future of light.

---
Thy word is a lamp unto my feet, and a light unto my path. Ps 119:105

---
Led by Love
Jesus, shepherd us through
life's dim shadows.
We would not look at
storm clouds and deadly foes,
but at Your radiant face,
for You can calm each gale
by Your amazing grace.

As we journey homeward,
You will guide us through Your love.
As we walk with You onward
You'll lead us safely
to Your dwelling place above.

---
Only Today


Only today stretches out before me.
Not for me the cares of tomorrow.
Just one moment at a time --
Not the weight of unknown days ahead.
It's not for me to bear my cares,
but to cast them all on Him
Who holds the universe in His palm
and carries me too.
moment
by moment.

Through sorrow, toil and pain
I can safely walk,
Knowing, dear Lord, that You hold my hand.

Not for me the backward look at days forever past
and at sins washed away by Thy blood.
The race is now!
Help me keep my eyes on the prize ahead
and not look back.

I would run my race looking only unto Thee,
until the day breaks and I awake to see Thee
face
to face.
---
Click on links below to see more Path paintings:
Fauvist Path Paintings Realist Paths