Garden Paintings
A

nd the LORD shall guide thee continually, and satisfy thy soul in drought, and make fat thy bones: and thou shalt be like a watered garden, and like a spring of water, whose waters fail not. Isa 58:11

Click here to discover the source of creativity.
---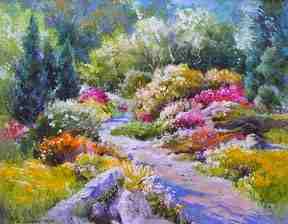 For as the earth bringeth forth her bud, and as the garden causeth the things that are sown in it to spring forth; so the Lord GOD will cause righteousness and praise to spring forth before all the nations.Isa 61:11
---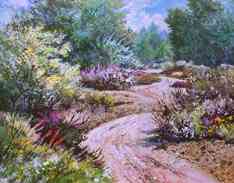 Commitment
Love, let us walk down life's path together,
Hand in hand,
Until the morning breaks,
and we awake in endless day.
Or should one precede the other,
We shall meet again in heaven's
fairer land!
This is the sweet assurance of those
who in Christ abide.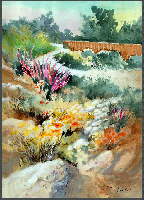 ---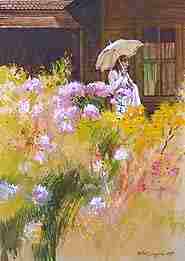 Memories like sweet flowers bloom again in the garden of my thoughts.
---
Once my husband, Bob, and I had gorgeous hibiscus flowers growing in our front yard.
But we neglected an essential task -- pruning them. As a result they straggled all over the place.
Then one day to my horror, neighbor boys started attacking my prized hisibcus plants! They broke off branches to use as swords when I wasn't watching. After they were through, trash and broken foliage littered the lawn in front of my condominium.
Sadly I concluded the hibiscus bushes were doomed because broken sticks shorn of their leaves ruined the former beauty of the front yard. Gapping tunnels under the bushes invited more destruction.
But one morning a breathtaking sight greeted me. A huge bouquet of red hibscus flowers cascaded down from high up in my magnolia tree. The bountiful crop of larger-than-ever blooms proclaimed they had flourished not in spite of mistreatment, but becaue of the "abuse."
A Scripture passage jumps out at me. "I am the true vine, and my Father is the gardener. He cuts off every branch in me that bears no fruit, while every branch that does bear fruit He prunes so that it will be even more fruitful" (John 15:1-2).
While breaking off branches to use as swords the boys actually energized my hibiscus plants! The bushes desperately needed pruning, but I had neglected doing that job. Since I am so fond of these bushes, I would have never been so ruthless in stripping them of branches and foliage.
But the boys effectively did the job even though they didn't intend to do so.
Here's a great parable of the Christian life. Just as plants need pruning to reach their full potential, so God needs to prune His children's lives so the fruit of His Spirit can grow.
God definitely will snip the lives of believers so that maximum fruit can be produced. Sparing us from this painful process is not helpful. God loves us so much that He will prune us even if it does hurt and even if it seems He is harming us. But we are not in a position to judge what God is doing. After all, He is God and we are not!
True faith does not demand an explanation from God. We may ask, but He does not have to tell us. Those who are truly saved will know as we are known someday soon. In the meantime, our part is to walk by faith.
Just as I thought my bushes were ruined when they were actually being rejuvenated, so God uses cutting experiences to make our lives more fruitful.
Our temporary happiness or comfort is not the point. Happiness depends on happenings. Through Christ we may always be overflowing with deep and lasting joy -- which is independent of circumstances. That too is a fruit of His Spirit.
To be fruitful in Christ I need to rest in Him, trusting Him to bear the fruit through me.
So anticipate the divine Gardener's handwork -- a life exploding with dazzling flowers recreated by diving pruning shears!
---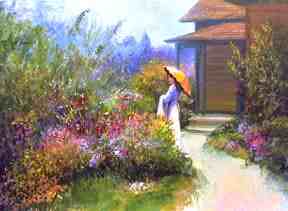 Sold
Trumpets in My Garden
Hibiscus flowers bloom crimson and yellow,
Billowy trumpets proclaim their Creator's work.
They remind me not to strain and strive,
But to rest in Him from Whom all beauty flows.
So effortless their loveliness appears;
So persistent their blossoms renew.
Silent witnesses of God's touch.
They seem to whisper low:
"If He cares for us,
how much more does He watch over you?"