When Heaven Touches Earth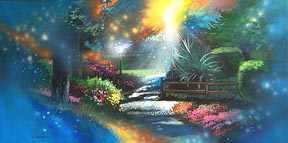 Sold
Click here to check out visionary prints and greeting cards.
B
ut the path of the just is as the shining light, that shineth more and more unto the perfect day.
Proverbs 4:18

Thou shalt guide me with thy counsel, and afterward receive me to glory. Psalm 73:24
Joy comes in The Morning
It is dark --
So black
that no light is shining . . .
except the bright and morning star.
Now I await the sun's arising.
Joy comes in the morning.

It is dark now,
but soon the day will dawn.
Through eyes of faith
I see a glorious future
beyond the blackness of night.

Yes, when the sun rises
All tears will be washed away
In God's eternal day.
Joy comes in the morning!
---
I see Your Love

Oh Lamb of God, I see through eyes of faith now
the crown of thorns on your holy brow,
Cruel lashes that brought my healing,
Your wounded hands and feet -- pierced and bleeding.


Separation from Your Father brought Your greatest pain,
That I eternal life might gain.
But death could not hold You in its grip.
The power over death from Satan you did rip.

You snapped my chains of sin and fear,
then drew me to you in love so near.
From death's clutches you rose in triumph over the grave.
Your resurrection brought the power to save.

All this was done at the greatest cost
of your cruel death and agony.
For the joy set before you
of saving me.

---

A Prayer When Injured

Though the enemy has cast flaming arrows at my soul,
By the shield of faith I am kept whole.
Let not my heart harbor secret sin.
Let me be clean and pure within.


Those who harmed me I freely release.
That I might see Thy power in me unleashed.
Though wounded sore I dare not hold a grudge,
Lest I no longer sense the Holy Spirit's gentle nudge.

Though earthly love should be removed,
Lord, help me forgive lest by Thee I fail to be approved.
Let not bitterness over my soul hold sway.
For Thou hast taken all my sins away.


Thy precious blood has never lost its power.
Save me from temptation in this final hour.
Earth's feeble light shall soon give way
to Heaven 's radiant unending day.

---

Click on links below to see more visionary art: